Standard Horizon Matrix VHF Radio
Sold Out
Free Shipping!
to continental USA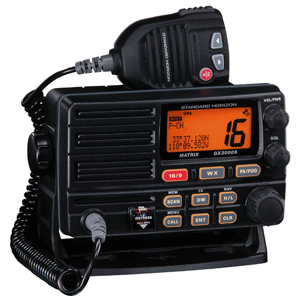 25W Class D DSC Transceiver with dual station capability and 30W loud hailer

The MATRIX GX3000S is capable of using 2 Enhanced RAM+ mic and/or VH-310 telephone-style handsets, allowing control of all VHF, DSC and hailer functions remotely. A powerful 30W loud hailer is integrated which includes listen back, fog signaling, bells and whistles.

Features:

Oversized Alphanumeric LCD
There is no question about it. With a big, bold display there is no mistaking the information. It can easily be seen in locations where the radio cannot be mounted directly in front of you.
DSC Distress Call Automatically Broadcasts Lat/Lon and Vessel ID*
Interface the GX3000S with a GPS using the supplied interface cable and you can send GPS information to the VHF. When interfaced, this allows transmission of a DSC Distress Call with position information.
30 W Loud Hailer with Listen Back and 4 Fog Horns, Bells & Whistles
When having a VHF is not enough, connect a optional PA horn to the Matrix and you now have a full functioning Loud Hailer complete with 4 fog signals, bells, whistles, horns, and sirens.
Large 2.25 inch Internal Loudspeaker Producing Loud Audio
With the 2.25 inch oversized internal audio speaker you will have no problem hearing communications even in the loudest conditions.
Lat/Lon and SOG/COG Display
When interfaced with a GPS position information is displayed on the LCD. This makes sharing position information with other vessels or the coast guard simple if you run into an emergency. Speed Over Ground and Course Over Ground are also displayed to help keep you on track.
Capable of Connecting Optional Second Station Remote Microphone
Connect a second station Microphones to have two full VHF stations on board with one antenna. All of the features of the main radio can now be accessed through the RAM+. Connect the VH-310 and have a full functioning Class D second station, fully equipped with an alphanumeric keypad in a Telephone style handset.
3 year waterproof warranty
If the STANDARD HORIZON MATRIX fails for any reason (including water damage) during normal use for the first 3 years of ownership, STANDARD HORIZON will repair or replace it free, without hassles or charges. If it fails for anytime thereafter in normal use, for as long as the original purchaser owns the radio, STANDARD Horizon's Lifetime Flat Rate and Customer Loyalty Service Programs will cover it.
To order the Standard Horizon Matrix VHF Marine Radio, add to cart below.